22KW/11KW Three-phase charging station
Connection cable to the vehicle not integrated.
Compatible with all type 2 electric cars
Up to 11 kW of charging power
Configurable charging power
Mounting plate, cable holder and screws included
Communication via Wi-Fi / GPRS / RFID
Color LED display
Dual leak detection and protection, emergency stop button.
Under voltage and over voltage protection
T2S Shutter option : 35€ HT (contact us)
Are you the proud owner of an electric car or are you thinking of buying one? Get the best charging stand to get you out on the road with peace of mind.  Duosida's 22KW three-phase charging station offers many advantages, including high charging speed, advanced control with Wi-Fi technology, enhanced security, and the absolute comfort of home charging.
Additional information
| | |
| --- | --- |
| Weight | 12,5 kg |
| Dimensions | 16 × 44 × 36 cm |
| Weight | 4KG |
| Protection level | IP55 |
| Size | 237mm×343mm×115mm |
| Nominal voltage | 400 VCA |
| Max output current | 32A |
| Maximum output power | 22KW |
| Smart Card | ISO 14443A |
Fill up on electricity at home with the ultra-efficient 22KW Borne+ charging station
Electric and hybrid vehicles are powered by batteries that deliver variable electrical power to turn the engine and move the wheels. Unlike internal combustion vehicles, they consume electrical energy instead of fuel (gasoline, diesel, oil and other derivatives) and must be recharged regularly. With an electric car, you make a commitment to ecology by saving the environment from CO2 emissions and money as well, thanks to a more generous cost/range ratio (ecological bonus) compared to conventional cars.
14 days to change your mind
1 year manufacturer warranty
Technical characteristics of the charging station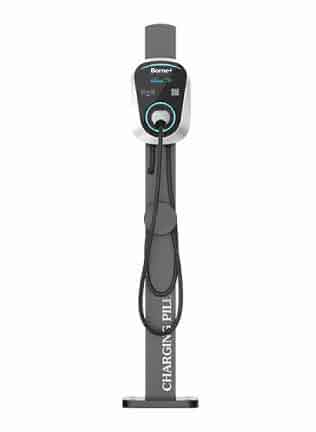 Output current : triphasé, 32A
Length of the ground cable: 90cm
Status information by large colored LED circle
Electronic anti-theft device, support of the electronic lock of the vehicle.
Stop button: Yes - Red button on the side
Possibility of WIFI connection: Yes
Metal plate for cable storage with metal cable hook.
Housing material: Polycarbonate
Start of the recharge by IC recharge card
Remote start via mobile application
Stop of the recharge by remote control or by button
Remote check of the reserve load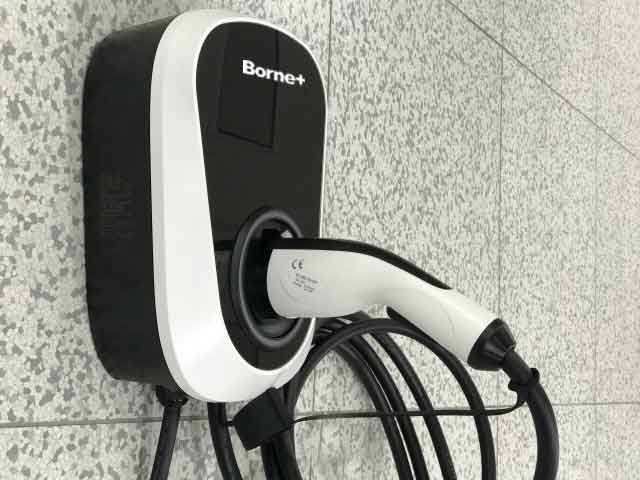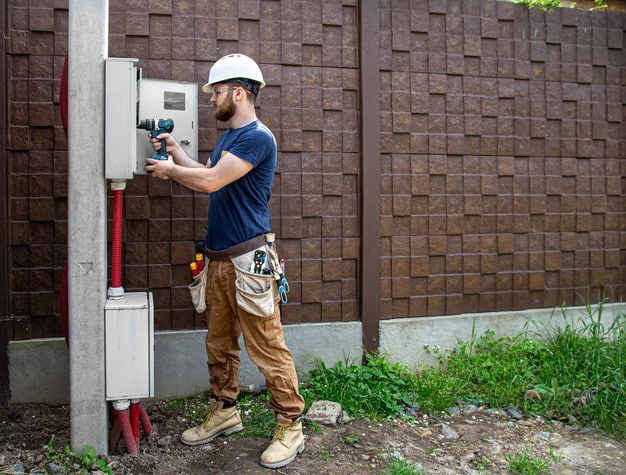 Protection against overloading
Protection against overvoltage
You can choose to charge the vehicle
On public charging stations, which are stations installed in public places (parking lots, rest areas, etc.). These are powerful electric charging stations accessible to the general public. However, they are too often saturated due to their poor distribution in large urban areas.
On home charging stations, which are private and personal charging stations that allow the battery to be fed at home. This solution is more adapted to people who want to charge their cars with more freedom.
Comfort of recharging
With Borne+'s 22KW charging station, you can enjoy the convenience of charging at home and avoid long lines and wasted time at public stations. The equipment, manufactured by Borne+, is specifically designed for fast charging with its three-phase 32A output. It allows you to feed your battery during off-peak hours or overnight and leave in the morning with a full charge.
The 22KW wall-mounted charging station is equipped with a Type 2 plug (also called Mennekes Charger) that fits the vast majority of electric cars circulating in Europe and in France. Thanks to its discharge capacity, it can fill the battery of a 61.4 KWh Byd e6 in less than 3 hours and the battery of a 17.3 KWh Audi Q7 E-Tron Hybrid in 2 hours and 33 minutes (maximum charge limited to 7.4 KW) for example. If you want to know all the information about the cars compatible with the terminal, visit our information table.
A light, robust and easy-to-handle bollard
A light, sturdy and easy to handle charging stationGet an incomparable ergonomics with the 22KW three-phase wall or stand charging station. Apart from its high charging capacity, this product is made for a personalized, simplified and comfortable daily use.
The station is mounted on a metal column fixed on a very stable rigid base. It is easy to maneuver and transport thanks to its light weight of 8kg. The polycarbonate case culminates at the top of the structure and measures 33 x 22.5 x 11cm, which allows it to display information for quick reading. It has a modern interface with LED display that shows the charge status as well as a percentage bar for maximum accuracy.
The wiring system of the 22KW charging station is composed of:
A Type 2 charging socket with a 5m cable that allows you to reach the power supply hatch of your electric car without difficulty in the garage or even in the yard.
An earth cable of 90cm.
A multitude of security features
A plethora of mechanical and electronic protections accompany the Borne+ 22KW three-phase wall-mounted charging station.
The unit is protected against electrical hazards such as power surges, low voltage, overloads, overheating, short circuits, etc. You can therefore use it without fear in your garage or in a covered area with peace of mind. The charging station is also equipped with a red manual stop button on the side to stop the power supply in case of need.
The charging station is also protected against water splashes and dust. It is IP55 rated, a protection standard that prevents any risk of short circuit in case of exposure to raindrops, watering cans, etc.
Caution! The IP55 protection rating does not cover immersion and high water pressure, however. Despite the high degree of protection, avoid washing the charging station with water, spraying it with water or putting it in the rain.
The Duosida by Borne+ wall-mounted charging station makes your life easier with its remote charging management system. It comes with an APP (Duosida application) that allows you to control the charging process, the operating status, general and specific information from the WIFI.
By connecting to the DS Charge mobile app (available on the Playstore for Android and App store for iOS), link the charging station and your smartphone to discover many features. From then on, you can:
Select charging solutions (7KW or 11/22 KW)
Start or stop charging at any time from your phone with one click
Display the time spent on the current charging plan to check the actual charging performance
Display the remaining power of the vehicle battery to check your range
View the reserve charge
View maximum charge current to adjust discharge power
Display the voltage of the charging station
Display the current charging power
Display the temperature (internal) of the charging station
View charge history to check your charge cycles
Receive feedback and help on using the station from notifications to keep you up to date with the latest news and features
Update the software to make the application more fluid and efficient.
The Duosida 22KW charging station also works with smart cards. In particular, the IC card can activate charging.
Call customer service for specific information
Looking for information about our charging stations? Visit our frequently asked questions or go directly to the support section by calling +33 01 45 84 80 81 . You can also send an email or a letter to the following addresses
contact@borneplus.fr
10 Place Pinel, 75013 Paris, France
An active and competent customer service will answer you in a short time to bring clarifications on the product.
You can also download the manual of the 22KW charging station with cable or without cable, as well as the complete user's manual of the Wifi function for more details on the product and its operation.
1 year Professionnal warranty
All the products (chargers and terminals) of Duosida France are checked before being sent. They are covered by a 1 year warranty. To benefit from this guarantee, buyers and resellers must buy directly from Duosida France.
The guarantee excludes :
Failures or wear caused by the transport of the goods (post or other means).
The deterioration of the material due to a bad handling (non respect of the instructions of use mentioned in the note).