3KW/7KW Single-phase charging station
Connection cable to the vehicle not integrated.
Compatible with all type 2 electric cars
Up to 7 kW of charging power
Mounting plate, cable holder and screws included
Configurable charging power
Communication via Wi-Fi / GPRS / RFID
Color LED display
Dual leak detection and protection, emergency stop button.
Under voltage and over voltage protection
T2S Shutter option : 35€ HT (contact us)
Are you looking for an efficient recharging solution that is inexpensive to purchase and operate? The 7.2KW Duosida by Borne+ single-phase charging station offers the best compromise between ergonomics, price and performance for electric cars and plug-in hybrids at home. Thanks to its robust design and its intelligent electronic system with integrated wifi, this versatile charging station will make you gain in autonomy and comfort through its numerous options including card start, mobile application control, and its LED interface with color screen.
Additional information
| | |
| --- | --- |
| Weight | 9 kg |
| Dimensions | 16 × 44 × 36 cm |
| Weight | 4KG |
| Protection level | IP55 |
| Size | 237mm×343mm×115mm |
| Nominal voltage | 400 VCA |
| Max output current | 32A |
| Maximum output power | 22KW |
| Smart card | ISO 14443A |
The 7.2KW Borne+ charging station frees you from public charging stations
The transition from a combustion engine car to an electric or hybrid car brings many changes. The use of a battery instead of fuel encourages drivers to get electricity at home or at more powerful charging stations in order to obtain the necessary autonomy. It should be noted that access to these charging points is often limited by poor coverage in strategic locations, including public or private parking lots or parking areas.
14 days to change your mind
1 year manufacturer warranty
Technical characteristics of the charging station.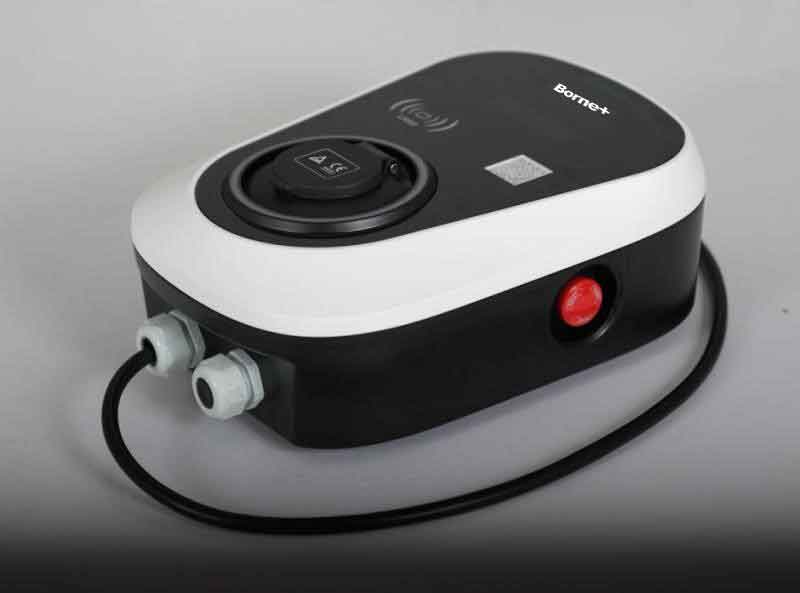 Length of the ground cable: 90cm
Status information by large colored LED circle
Electronic anti-theft device, support of the electronic lock of the vehicle.
Stop button: Yes - Red button on the side
Possibility of WIFI connection: Yes
Metal plate for cable storage with metal cable hook.
Housing material: Polycarbonate
Start of the recharge by IC recharge card
Remote start via mobile application
Stop of the recharge by remote control or by button
Remote check of the reserve load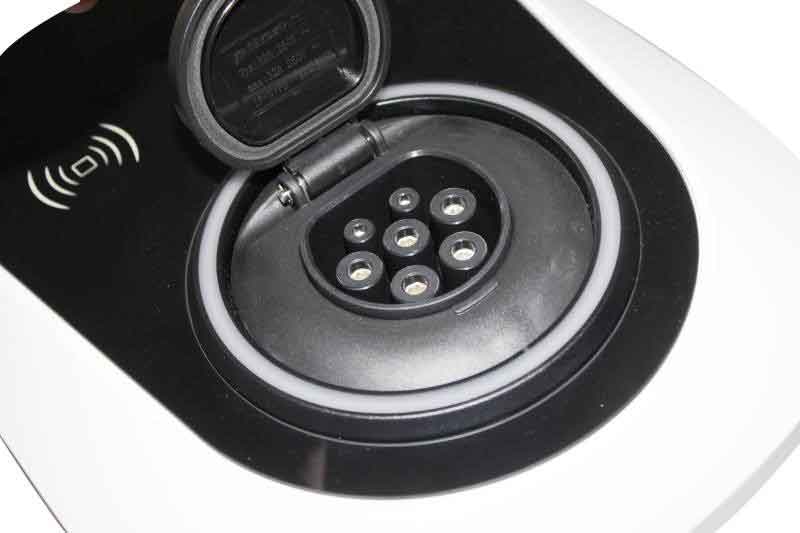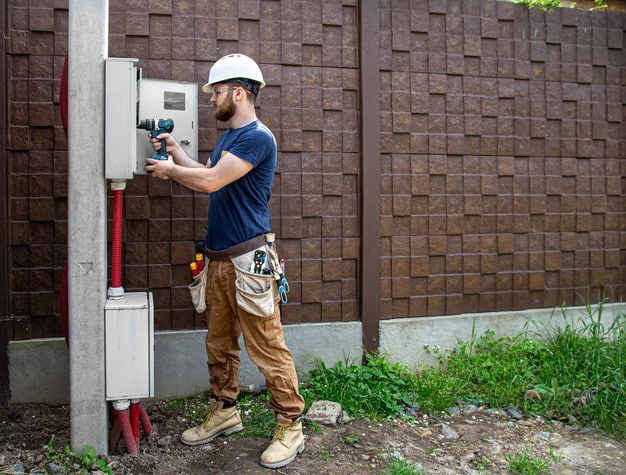 Protection against overloading
Protection against overvoltage
Don't depend on public terminals
Despite the program to deploy 100,000 charging stations in France, the right to plug in is far from being effective, as charging structures are rarely free during the day. Drivers and owners of electric cars have to queue up or go in search of another charging station, which is very costly in time and money.
Level 1 charging cables (home charging plug) offer an alternative with home charging. On the other hand, their performance is insufficient for the user to fully benefit from the electric vehicle. These solutions offered by vendors and car manufacturers allow the vehicle to be serviced due to their portability. However, the recharging processes are too time-consuming (a full recharge takes up to 36 hours on a domestic AC current for batteries of more than 50 to 100 Kwh).
The 7.2KW Duosida electric vehicle charging station with a 32A charging capacity, Borne+ offers you the best solution to escape the restrictive charging conditions. This ultra-modern single-phase station combines the performance of a fast charging station with the comfort of easy-to-handle equipment available day and night.
A fast charging station waiting in your garage
The Borne+ 7.2KW charging station has been designed for all profiles of electric vehicle users. Made up of a sturdy, lightweight charging box, it simply mounts on the wall of a garage or in a covered area of your yard. This charging station comes with a Mennekes (Type 2) and TS2 charging cable compatible with most vehicles, and a grounding plug. You can plug it into your vehicle during off-peak hours, between errands, in the evening after work, or all night to fill up on electricity. With the 7.2KW charging station, there's no need to stop at public charging stations and points or to go around the charging station network.
An economical charging station
The Borne+ 7.2KW electric charging station allows you to save money at the time of purchase, but also during operation. First, the purchase and installation allow you to benefit from government assistance. The French government has been encouraging the transition to electric vehicles for years. Electric vehicle users who opt for a charging station in a collective building (condominium) or an individual house enjoy a tax credit (regardless of income). Thus, the current system announces a tax credit on 75% of the price of the charging station up to a limit of 300 euros for any purchase and installation of a charging station between January 1, 2021 and December 31, 2023. Take part in the great migration to electric mobility with the best provisions!
Second, the Borne+ 7.2 kW charging station has been calibrated to suit the electrical installations of French households. Its single-phase power supply and 230V voltage rating do not require any modifications or costly work for installation, unlike three-phase systems. Moreover, Borne+ offers a turnkey service so that you can enjoy your recharging solution immediately after purchase.
Finally, electricity is less expensive than gasoline, diesel or petroleum when you compare the cost of a full tank of gas and electricity. On average, you will save up to 6 times your travel budget, given the inevitable rise in fuel costs.
A powerful terminal to meet your daily needs
The 7.2KW Borne+ charging station brings together all the ergonomic and technical elements to make your life easier.
Its 7.2KW power allows you to recharge a wide range of electric and hybrid vehicles at a satisfactory speed, ten times more efficient than a proprietary connection cable. The electric filling of a Nissan Leaf is reduced to 5h (against 18h) while that of the Peugeot e-208 is 3h59 (against 14h) for example with the 7,2KW 32A terminal.
Recharge with peace of mind with the charging station
7.2KW charging station
Electric charging stations carry high voltages that can be very dangerous if not handled properly. The 7.2KW Bollard+ solution prevents all incidents, such as fires caused by short circuits, through fully secure equipment.
The control and monitoring box of the Duosida 7.2KW bollard is IP55 rated. This means you can use it with complete peace of mind even in the event of water and dust splashes.
The charging station also contains other essential electronic security options:
An antistatic protection that protects you from possible electric wave losses.
Protection against overvoltage and undervoltage
Protection against overcurrent
Protection against overheating via an operating temperature control (-30° to 50°C)
Lightning protection
The equipment Duosida 7,2KW by Borne+ takes advantage of the last technological advances to obtain a great durability. The recharge cable has a length of 5m and has a protection class IP 55.
The case is protected by a thick shell that has a physical emergency stop switch.
A state of the art terminal
The 7.2KW 32A plug-in hybrid electric car charging station is equipped with a multitude of practical and productive WiFi features.
Its casing is equipped with a high-resolution LED display that shows the state of charge of your car, but also important information such as residual current, remaining charging time or the charging cycle.
The charging station is then delivered with a mobile control application "DS Charge". This app expands your control over the hardware via a plethora of settings. To install it, Android users should enter "DS Charge" on the Google Play Store. iOS users can search for "DS Charge" on the App Store.
From your cell phone, the app allows you to:
Start or stop the charging process. With this feature, you no longer need to leave your chair or desk to check the charging status.
View charging history statistics. The DS Charge/ Fresh Charge application records the time you spent charging your electric car from the charging station. It will give you in-depth details of speed and time.
View electrical data. This setting gives you access to all the information about the reserve power and range, voltage, charging power, charging cycle.
Check the temperature
This application linked to the home charging station also keeps you informed of the latest updates. A notification system tells you the latest features you can download.
Finally, our 7.4KW charging station supports IC cards and QR Code for a smooth and totally disconnected use.
Have your charging station installed by professionals
Home charging stations are connected to high-voltage circuits. At Borne+, we advise buyers and resellers to use specialist electricians who know how charging stations work to avoid any risk of accident.
We also work with Qualifelec or AFNOR IRVE installers to perform a pre-installation analysis to ensure your safety. A preliminary study of your building and its electrical network will allow us to establish the estimate and ensure the optimal operation of the charging station.
Why IRVE ? You can call on other operators and electricians depending on your layout. In fact, we provide videos and installation guides to make their job easier. However, the IRVE electrician is the only professional recognized by the State for the installation of charging stations. They will thus make you benefit from the subsidies and various aids promised by the government in the context of the purchase and installation of a charging station for electric cars and plug-in hybrids.
Call customer service for specific information
Looking for information about our charging stations? Visit our frequently asked questions or go directly to the support section by calling +33 01 45 84 80 81 . You can also send an email or a letter to the following addresses
contact@borneplus.fr
10 Place Pinel, 75013 Paris, France
An active and competent customer service will answer you in a short time to bring clarifications on the product.
You can also download the manual of the 22KW charging station with cable or without cable, as well as the complete user's manual of the Wifi function for more details on the product and its operation.
1 year Professionnal warranty
All the products (chargers and terminals) of Duosida France are checked before being sent. They are covered by a 1 year warranty. To benefit from this guarantee, buyers and resellers must buy directly from Duosida France.
The guarantee excludes :
Failures or wear caused by the transport of the goods (post or other means).
The deterioration of the material due to a bad handling (non respect of the instructions of use mentioned in the note).